What if you were held in high regard at the court of the English Queen, lost her favor, dwelled over Europe in company of a man performing seances, traded wives, returned home again to find your home ruined…it happened to John Dee!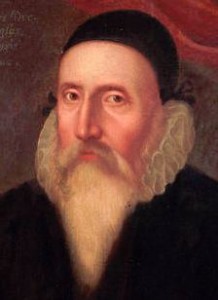 John Dee was a respected scholar and one of the confidants of Queen Elizabeth I in England in the 1550's. He calculated the right time for her to be crowned in 1558. He was held in high regards for publishing his view on the importance of mathematics for the arts. Here you can find a newly published copy of this work:
His proposals were refused time and time again. Once his hopes for a flourishing political career were gone he invested his energy in spiritual matters. He wanted to talk with angels. Maybe angels could help him to get the best out of life. The first man he hired was a complete disappointment but then Edward Kelley came into the picture.
Now we have the magicians that so many books and songs have been written about.

Melmoth the wanderer written by Charles Robert Maturin:  
The angel of the west window written by Meyrink:
<
Daemonomania

written by no other than Crowley,
Snow White and Rose Red written by Patricia Wrede

and the Iron Maiden song The Alchemist to name a few. The two held daily seances and composed a ritual to hear messages from angels. They composed several works channeled by angels. These methods are still available and some say that you gain good results by practising them. It is called the Enochian method of magic.
(if you buy the book by clicking the picture you will support Mindfunda)
In 1583 they met with alchemist and noble man Olbracht Łaski who invited them to join him in Poland. But he turned out to be out of favor at the Polish court and bankrupt so the two magicians went elsewhere. Training himself in alchemy, Edward Kelly convinced Emperor Rudolph II in Prague to hire his services. Here you can see a picture of the laboratory of Kelly in Prague: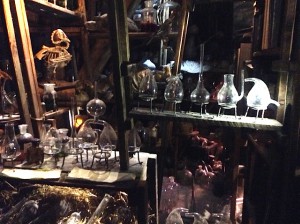 Being more of a spiritual man, John Dee was far more interested in communicating with angels. John Kelly had become sought after, for his knowledge as alchemist. One day Kelly claimed that archangel Uriel had demanded that the two men would share everything. Yes everything, including their wives…
(if you buy the book by clicking the picture you will support Mindfunda)
Can you imagine how old bird John Dee, 60 at that time, most have felt when flamboyant 32 year old Edward Kelly made out with his lady? But he agreed (and so did his wife) And did you know nine months later she gave birth to a baby boy? But is caused Dee to return to England. By this time Edward Kelly had been thrown in jail by Rudolph II because he had not been able to produce gold.
John Dee returned to England. His house was plundered during his 6 years of absence and the new King James I did not want him around. He had to sell his possessions, a lot of valuable books and died a poor man.
Two friends, two swindlers? Was John Dee an accomplish of Edward Kelley? was John Dee a victim of Edward Kelley? Or was Edward Kelley indeed the clairvoyant alchemist he claimed to be?

Do you like this post? Feel free to share!
Please sign up for my YouTube channel to enjoy all the beautiful Mindfunda interviews with inspiring people. People like Jean Benedict Raffa, Anne Baring, Connie Kaplan, Ralph Metzner Stanley Krippner and P.M.H. Atwater. I will be doing an interview with Catherine Wikholm about her book the Buddha Pill very soon so be sure to sign up and with Justina Lasley about her book Wake Up to Your Dreams: Transform Your Relationships, Career, and Health While You Sleep!
GRAB YOURSELF A FREE E-BOOK AND LEARN ALL ABOUT MUTUAL DREAMING USING THIS LINK
Join me on Facebook
Twitter @susannevandoorn