I have never read The Catcher in the Rye written by J.D. Salinger. When I had to prepare a reading list for my English class, I felt that the yearning and depression of a young teenage male was far beyond my scope of interest.
So why would this book all of a sudden appear in a dream of mine?
Do you like this post? Subscribe to my blog using the sign up form on the left side of this page
Catcher in the Rye: The Dream
On May 15 2017, moon in Capricorn, I see A., a photographer. He walks over to me, gives me a kiss and says: I am going away on a long journey. I will read "The Catcher in the Rye" along the way.
I step back, feeling sad about his departure and confused because I did not care at all at one time of my life about reading The Catcher in the Rye.
When I wake up, I immediately decide to google a resumé to get a better understanding from the theme(s) in this book.
Catcher in the Rye: Day Residue
About a week before this dream I had watched a documentary on the Dutch Netflix about photographer Harry Benson: Shoot First. He has become famous because of his spontaneous photo's of the Beatles. He was a personal fan of John Lennon.
When I was in high school, I was a big fan of the Beatles too. This was the early 1980's so I was bit out of date, I confess. I wrote out the lines that I could understand and translated them.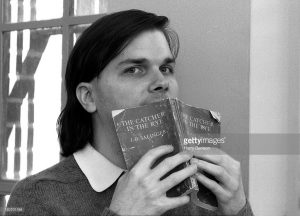 Harry Benson was also asked to photograph the murderer of Lennon: Mark David Chapman.
And… When Lennon was shot by Chapman, he had just returned from… a photo shoot with Annie Leibovitz.
And.. the person who was going away to travel is also a passionate photographer. So the first thing to investigate further is the concept of photography and what it means to me.
Catcher in the Rye: Step 1
When I was relatively young, a go a photo camera from my parents. A simple one, but I took lots of pictures.  I experimented with subjects, light, angles. I loved it.
I grew up with parents that were born in the twenties of last century. It's a long sentence to explain that I hardly ever got a compliment. But my parents did compliment me on my photography.
Do you see how John Lennon is completely naked on his last photo? Vulnerable like a baby?
When was the last time I dared to be vulnerable? I usually go to great lengths to prevent any kind of vulnerability.
And did you se the first picture I used in this blog? It says: "People Don't Notice Anything". That is something the main character, Holden Caulfield says about people. People are phony.  Photography can help you notice things.
Catcher in the Rye: Step 2
Another theme in the book is the male – female energy. Clearly, in the book, Holden Caulfield is not a person who handles the balance between his male and female energies well. Does this dream give me some advice to re-adjust my own balance?
In my waking life, my husband is a proud and good photographer. But it has let me to neglected my own photography skills and hobby.
If you look at John Lennon's final statement to the world, the way he is clinging onto Yoko Ono for warmth and protection, it is almost like he felt safe to be nurtured by her. So in my eyes this dream also asks me to research the balance in my own relationship.
How did you like this post? Do you see any other possible meanings I have missed? Please let me know in the comments, I always love to hear from you.
I like nothing better than to give away valuable information to make your life better. Here are two books to choose from: 10 tips to remember more dreams and a report on Mutual Dreaming