Mythology of the Soul
A Research into the Unconscious from Schizophrenic Dreams and Drawings
by H.G. Baynes
Routledge 2015, $61.18 paperback, Kindle $49.46 ISBN 9781138852334
Reviewed by Drs. Susanne van Doorn
Edited by Christian Gerike
The Routledge Tayler and Francis Group started an initiative to re-publish works of distinguished authors that were no longer available. The initiative is called Psychology Revivals. Mythology of the Soul is one of the re-published books, it was originally published in 1940.
Two Schizophrenic Cases
H.G. Baynes, trained by Carl Gustav Jung in Zurich and translator of his work, was a respected  Jungian analyst in London. If you are as ambitious as H.G. Baynes was, and want to write a book about the human soul, why would you base your ideas on two schizophrenic patients?
"As soon as the individual (or the race) has succeeded in giving adequate hospitality and understanding to the primordial image which is using and shaping his mind, there is no further question for schizophrenia" (page 12).
In other words: in a world as modern as ours, we are al a bit schizophrenic.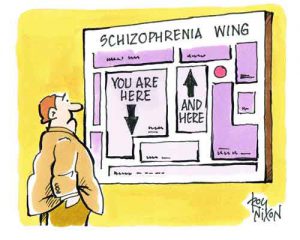 There is a principle of homeostasis that governs nature. For example, in the human body there is the homeostasis of body temperature and glucose concentration. Even though Baynes never mentions the principle of homeostasis, he intuitively presumes that the same principle governs the human psyche. The the human psyche has a natural desire to stay balanced.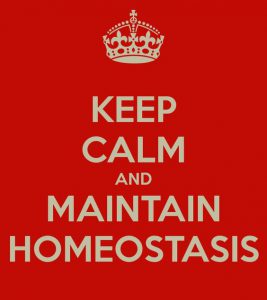 "The man with a shut-in personality, who conceals a knot of negative inferiority and hostile criticism behind a mask of unconcern, experiences an immediate release of tension when he finds he can express his mood in a vigorous, spontaneous drawing. And when, in the analytical hour, he discovers that his drawings are graphic representations of the morbid inner process which hold him, as it were, marooned and inaccessible in a world of living men, his relief is enhanced by understanding" (page 112).
It is very flattering for the human species to assume that people have an inner craving for self understanding. As a Jungian psychologist I am convinced that Baynes truly believed this and guided his patients towards another vision of themselves. Baynes is also very convinced about therapy as a way to induce such an understanding. These parts of the book represent the 1940s era they were written in.
Searching for Balance
Barnes constructs the soul using dreams and images, even though he never defines the soul. If you like mythology and symbols, you are certainly going to enjoy this book. Using Jungian concepts, he tells about the basic affective attitude: the undeniable determination of our psychological condition.
After reading this book you will know that the fate of this life is to remain in balance, and this balance has to be found between Phobos and Eros, between fear and love. That sounds familiar doesn't it? In the eighties you had the New Age movement who also divided the world into these contradictions.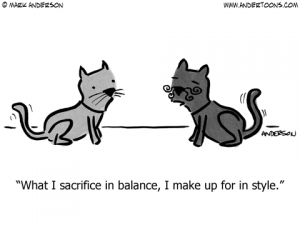 Schizophrenic art
The way that dreams and drawings are analyzed in this book will thrill your mind. If you are working with dreams, art, or symbols, you will learn a lot from the way Baynes carefully dissects them. If you love art you will love this book. You will learn much from the brilliant mind of Baynes just by reading his interpretations of the dreams of his patients.
"Art is the indispensable psychical container as well as the inexhaustible vessel of spiritual nourishment" (page 113).
There are 58 illustrations (drawings) in this book, six of which are in color. Baynes, in his commentaries of the schizophrenics' drawings, shows you how to look at art  and to read its energy pattern. Baynes usually divides up a drawing into four parts and analyzes the symbols. Either aided by their fantasies (there is a guideline on active imagination) or interpretations from Baynes himself, who draws upon his huge knowledge of mythology, you  soon become  deeply involved with  the psyches of the two men that drew them. It is not so much the quality of the artwork, as it is the display of imagery and energy that brings such deep involvement.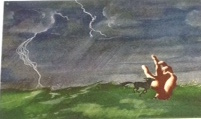 "The patient was torn by conflict and swept by fear at this juncture. At times he was undoubtably tempted to run away from the ordeal. Never yet had he been able to stand firm through an emotional tempest. But in this moment a power stronger than himself took possession of him, and the uncontrollable mood was checked. Therewith he was forced to recognize a power in the centre of his being that was proof against fear. Later he connected this power with the candle burning in the midst of the sea. A voice out of the past wanted to call it "the hand of God"; but he preferred to leave it as it came-nameless. The one essential fact was its undeniable efficacy: his truth would stand whatever happened" (page 880).
THE hero
Baynes has also become known as the man who defined the concept of hero somewhat earlier as Campbell did.
"The betrayer of the hero is his shadow. Siegfried was betrayed by Hagen, Christ by Judas, Osiris by Set, Othello by Iago, etc. Wherever the heroic ideal has been projected, and into every relationship where a splendid ideal has been fostered, this invisible Iago is liable to breathe his poison. Othello loved with his greatness, but distrusted with his inferiority. Both aspects are Othello" (page 384).
conclusion
What is the verdict, to buy or not to buy?
pro
The book is a studbook of Jungian concepts.
The writing style of Baynes is relatively easy.
You will learn much from the analysis of Baynes.
The book has more than 900 pages.
You will be pleasantly surprised by the mythological knowledge in this book.
con
The book has more than 900 pages, which is value for money, but also a lot of reading work.
Sometimes the sentences are long, which can needlessly complicate your understanding of a sentence.
There is no real concept of the soul that is defined using the dreams and artwork of the patients.
More about me, Susanne van Doorn:
Facebook
Twitter
Ebook
Mindfunda Mythology