I was so glad that I could escape from my body that was aching all over, I felt like a fool that I had stayed in it so long. It was a conscious decision to fly away and leave my body and its misery behind. The pain had been too much for me to bear. It was a happy event, I was very interested in the adventure to come...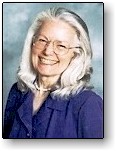 When I wrote about my own Near Death Experience (NDE), a friend of mine alerted me to the groundbreaking work that P.M.H. Atwater has done in this field.
P.M.H. told me about her extraordinary life in this (click here) Mindfunda Interview.
When she was a child, the policeman who raised made sure she became the perfect observant. He used to ask her about all the things she saw in life, making sure she did not miss a detail. This became very important in her career as scientific researcher.
In 1977, (not my best year, she jokingly says in the interview), she had three NDE's. That triggered a lifelong research into the subject of NDE.
These three profound experiences shaped her life. Put her on a different path. P.M.H, being dyslexic saw books she was going to write. And she did. She is the author of fourteen books so far, and working on a new book.
Her new research is about children who have a nde at a very early age. This is how she describes it at her own website (use this link to visit her website):
NEW CHILDREN'S RESEARCH PROJECT – VOLUNTEERS NEEDED
Dr. Atwater is looking for anyone who may have been deeply impacted while still in the womb (perhaps the mother faced issues during pregnancy), with birth/birth trauma, being a preemie, while a baby or toddler, and/or up to the age of five. Because of this, the individual grew up different or odd or somehow never quite "fit in" afterward. Whether remembered or not, aftereffects cannot be denied.
Children's near-death experiences were covered in-depth in Dr. Atwater's book The New Children and Near-Death Experiences. The age range covered in this book was from birth to the age of 15. Children's near-death experiences are different from adult's – because of how they respond to the aftereffects. Tiny ones, from womb issues to the age of five, are even more different. The smallest of the small are in a class by themselves. Why?
On her website you can find a link to download the questions P.M.H. Atwater is interested in, so you can sent it to her. It will be a very interesting research.
Having talked with this bright, smart lady, I am convinced that she has uncovered some of the hidden meaning of the spiritual experience of dying.
Do you like this post? Feel free to share!
Don't forget to sign up for Mindfunda's YouTube Channel!
Twitter: @susannevandoorn