Just this week you found out that there is another collection of stones near Stonehenge. 4,000 years ago it was built. And it is covered with earth. Why? Nobody knows. It is not excavated yet. Scholars have been tracing it down for years using remote sensing and geophysical tomography.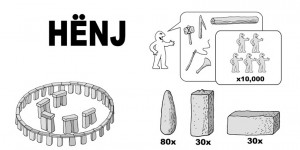 The monoliths are buried in the ground. What is more attractive and mysterious as a hidden landscape of stones. Did they create a gate towards Stonehenge? Did they fence off the natural avenue that Stonehenge formed with Durrington Wall? There is something magical about stones. Some people claim stones vibrate energy that can heal. But the gigantic stones once moved by human beings are simply impressive.
The magic of stones
For years I wanted to visit Stonehenge. The mystical place where the sun was honored and the turning of seasons was celebrated. Paul Deveraux writes in his book Sacred Geography:
'The Stonehenge Riverside project took place between 2003 and 2009. A little more light has been shed on the sacred geography of the area as a result… When the mosaic pieces of archeological findings were put together, a picture emerged of a place being used to celebrate the recent dead and the river Avon being used as a link with Stonehenge, a place of the ancestors'.


Mike Pearson
The Riverdale project was led by Mike Pearson, professor of archaeology at Sheffield University. He led the Stonehenge Riverside Project from 2003 to 2009. He has appeared in Stonehenge, a decade of discovery.
Stones used to build it are not only from the area but also from the Preseli hills in Wales
. In that way uniting two ancestral circles in England. He explains how ancestors, astronomy and the mid winter sunset are the most important features of the magic of Stonehenge.
Do you like this post? Feel free to share!
Please sign up for my YouTube channel to enjoy all the beautiful Mindfunda interviews with inspiring people. People like Jean Benedict Raffa, Anne Baring, Connie Kaplan, Ralph Metzner, Stanley Krippner and P.M.H. Atwater, Catherine Wikholm about her book the Buddha Pill and Justina Lasley about her book Wake Up to Your Dreams: Transform Your Relationships, Career, and Health While You Sleep!
GRAB YOURSELF A FREE E-BOOK AND LEARN ALL ABOUT MUTUAL DREAMING USING THIS LINK
Join me on Facebook
Twitter @susannevandoorn