The alchemical tension in a room with a view
This is the second Mindfunda Mythology about the relationship between mythology, films and dreams; for the first see this link: the Science of sleep
Like in alchemy, tension creates motion, in your life and in your dreams.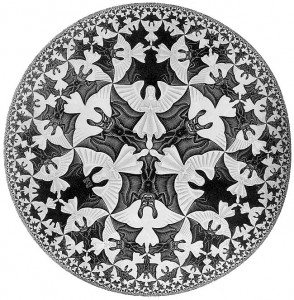 "As the polarized motion of magnetic fields can be used to generate electrical energy, polarity in a story seems to be an engine that generates tension and movement in the characters and a stirring of emotions in the audience"
Chris Vogler
When you look at the story of your dream, most stories can be divided into three simple parts: the beginning. the middle and the end. Most of our dream-books tell us that the turning points of stories involve a "violation" an "argument" or a dispute. Let's look at a simple example. A bike dream of mine.
Being of Dutch origin I have had lots of bike dreams: my bike being broke, me riding a bike somewhere, or not being able to open my bike… In waking life I often ride a bike.  My brother, almost a generation older then I am, taught me how to ride. That is: he put me on a bike told me to paddle away and I asked him to please hold me. 'Yes I will hold you" he promised, but he let go (do you see the tension in the story? Someone broke his promise to ensure my personal growth. By promising me to hold me I let go of the fear I was going to fall and hurt myself, and by beraking his promise my brother enabaled me to gain enough motion to go forwards). So when I shouted at him: Alright, you can let go now: He laughed and said: "you are already on your way". I looked back, scared myself and.. you guessed right: I fell down. But let's go back to the topic: tension creates motion, motion creates meaning.
Let's look at an example where the motion was a psychological one instead of a literal one as in the example above…
In a dream I head years later, being a grown up woman getteing a second education about the connection between food and physical well being I had this dream:
"I am at a play about kings and queens dressed in costumes of the middle ages. I feel imoprtant to have been invited at this cultural heighpoint of the year. As always I admire the velvet robes of the men and woman, and the beautiful hooped skirts on the dresses of the ladies. But a lady I know, G, keeps getting in my site. She is so much bigger then I am and she is blocking my view. I get mad but I do not say a thing".
Somebody is bigger then me. That was true. When G. was in my life, she was much more extraverted, much funier and much more in touch with people. This dream told me that I was looking at her in a way that got the fun out of the play in my life. We are all participants in our life  I felt immideatly triggered to watch the film "A room with a view" once again.
This is such a beautiful film with an easy to grasp symbolic meaning. If you have not seen it before, I really encourage you to go out and see it. I would love to know if this blog resonates with you. Doe you see motion in your dreams when there is tension? And does this motion change your life for the better?