Looking for original Valentine Day gifts ideas for your loved one?
First you might want to know what the origin of Valentine's Day (as it is often written) is. Well, at first it was all about poetry.
The oldest Valentine's poem known today, was written in the 15th century by Charles, Duke of Orleans, who was being held prison in the Tower of London.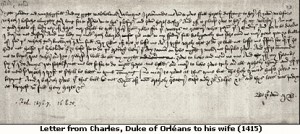 Je suis déjà d'amour tanné,
Ma très douce Valentinée,
Car pour moi fûtes trop tard née,
Et moi pour vous fus trop tôt né.
Dieu lui pardonne qui estrené
M'a de vous, pour toute l'année
Je suis déjà, etc.
Ma très douce, etc.
Bien m'étais suspeçonné,
Qu'aurais telle destinée,
Ainsi que passât ceste journée,
Combien qu'Amours l'eût ordonné.
Je suis déjà, etc.
—Charles d'Orléans, Rondeau VI.
The Duke spent most of his life in prison and nowadays is famous for his poetry. Valentines day originates in the middle ages when the tradition of courtly love flourished. It is said that Saint Valentine married couples, against the will of Emperor Claudius II, who thought that married men became weak. A number of myths go around attributing healing to Saint Valentine: in prison he is said to have healed the daughter of his jailer Asterius. Before he was executed he sent her a letter signed: "your Valentine'.
Here you are, still staring at the screen and desperately looking for original Valentine's day gift ideas. This is where some practical Mindfunda comes in!
If you, by any chance are a man or a lady saying: this is all too commercial then please buy your lover a gift or a bouquet of flowers on another day. Don't let this be an excuse to ignore the woman or man who enlightens your heart every day and who accepts you as you are. Celebrate the love you experience in your heart and your life. If you do not have a lover, buy yourself something beautiful. I got a list of beautiful affordable presents below aimed to please you.
In Europe, in the last decade valentine's day has become increasingly popular. And indeed, to give your loved one a gift once a year (it does not have to be Valentine's day if you lover thinks it is too commercial just ask him to give you a gift on another day).
But what present? It should not bee too expensive, but not too cheap either.
For you guys, finding good Valentine's day gift ideas could look more complicated than they are. Let us give you some Mindfunda thoughts:
Give her a diary for her dreams, thoughts and poetry. This is a very beautiful one with a good luck stone on it. Seventy five pages for her to write on and your Valentine poem is on the first page of course.  If you need help writing poetry: here is a useful link to a page that helps you to come up with words.
Give her a pendant necklace made from Lapis Lazuli. Lapis means stone, Lazuli means blue. L'azulaus is the arabic word means heavens and sky. This ancient stone enhances dreamwork and the old Egyptians thought could help the death find their way in the afterlife. It eliminates negative energy and helps open the third eye. A present with a mythological meaning!If you are in America, this would be a more affordable one, given the amount you have to pay nowadays for shipping (and we only have untill Friday to get those presents in) you might consider this one. This beautiful nekclace has Lapis is perfect for valentine's day because it has the strongest influence when it is close to the heart. According to ancient believes it takes away fear, and procures wisdom and sincerity.
She might be a book lover. Then give her a book, an ode to her beauty from without and within. She is your Goddess isn't she? Give her Joseph Campbell's Goddesses, Mysteries of the feminine divine. This excellent book tells about how the energy of the feminine divine originate in ancient times and is still relevant today.

Joseph Campbell: Goddesses – Amazon.com

Send her a personaly kissed Card! In the Netherlands there is a very sweet promotion from the dutch post office:
if your card has a red lip print on it and posted before five o'clock on Friday, your Valentine's card will be delivered for free. Now that is an act of love!
So go on and buy her a red lipstick (so you can try to kiss it off). It has got to be a good one, that is as beautiful as it is lasting. This is one of my favorites. It does not last 24 hours, but it stays on your lips quite a long time.
We hope to have given you some inspiration and ideas for Valentine's day gifts. But wait! What becomes of the broken hearted? Well you surf here and get yourself a really tasteful sexy outfit. Go out on the town and remember: sitting at home watching television is something you are going to do when you settle again!
Feel free to leave a comment or suggestion!
Your thoughts: