Just when I got downstairs to make some morning coffee, I heard my phone ring. A darkness clenched itself around my heart: was this the call that I feared so much? I said 'hello' and the voice of my nice told me that my favourite sister had passed away that night…
My sister was in my eyes the chosen one. Beautiful, smart, funny. In my mind's eye I saw the Valkyrie of Odin picking up her body, worn out by cancer, and take her to Valhalla. This image inspired me to read much more of Odin, the mighty all-father of the Norwegian countries.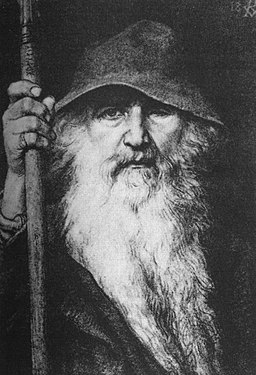 I like Christmas. I love how the Christmas tree lights up te darkness in my home. But I don't like hearing a song like 'Do they know it's Christmas' on the radio for seventy-four times each day. I like Christmas dinner with my family. But I don't like the fact that Christmas has become a festival of consuming. Odin symbolizes this two-sidedness that I always experience around Christmas. Odin is not only sweet like an overplayed Christmas song. He gave an eye to save his people from war. But he also is a trickster that fools everyone to get what he wants. Just like me he is thirsty for knowledge. But he goes through ordeals to get it.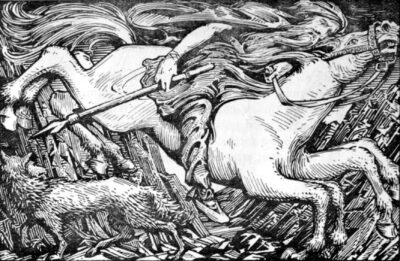 Odin, during Yule at December 21 rides the sky in his company of ghosts, just like Father Christmas. He does not only give gifts tough… If you have the bad luck to spot the Wild Hunt, you will have to join them in an eternal ride towards the afterlife…
Holy Nights
Each year during the twelve days of Christmas Mindfunda organizes the Holy Nights. An online event that you can join to get inspired and share dreams. This year Odin is our mythological leader. We will join the Wild Hunt, hang around the Christmas Tree with Odin, visit the Norns: the tree ladies who weave the web of life. We will take a sip from the mead of poetry, fly with the Valkyries and take Sleipnir for a ride.
Just a quick heads-up for new participants: what to expect?
Each day you read a blog about a mythological adventure that Odin undertakes. Each day you get an incubation. It depends on the package you pick if that is an audio incubation (Gold+Silver) with its transcript or just the written version (Copper) , see table below, this link also brings you to the overview page with a clickable version of the table).
Gold and Silver allow you to share your dreams on a dedicated forum. Because not everyone likes Facebook anymore, this year there is an independent forum for the premium members only.
If you want to undertake this journey yourself we have the Do It Yourself (DIY) package. You work on your own pace, but this choice does not offer the well appreciated group interaction though.
The audio incubations from last year's adventure are also available separately as  the About last Nights pack .
Meant both as a modest investment, and a sign of support towards Mindfunda as well.
I hope that you will join us this year to make Christmas 2020 a special celebration together with (new) friends. You will learn more about Norse Mythology. You will get a deeper insight into your own (dream) symbols. But most of all, you will enhance your knowledge about yourself: that the greatest gift you can give yourself.
Ready to participate? Want to know more?
Click here: 

Yes, take me on that journey!
---